Reducing CO2 emissions to reach net zero by 2050
Summit is committed to a comprehensive corporate sustainability program to facilitate our efforts to reach our goal of net zero carbon emissions by 2050. In supporting widespread sustainability initiatives, we aim to ensure that Summit is a leading company among our sector's decarbonization efforts through product and operations innovation.
Our approach
to reducing
carbon
emissions
To accelerate carbon reduction across our operations, we installed fuel consumption and mileage efficiency monitors in every Summit-owned vehicle to track and ultimately reduce fuel consumption, enhance efficiency and lower total emissions. We also developed a long-term strategy to address our CO2 emissions from our cement operations, as we believe this is a critical effort in the battle against climate change.
We believe our comprehensive approach strikes the right balance of leveraging technologies available today, supporting the expansion of the low carbon economy and ultimately adopting the best-of-breed technology to eliminate carbon emissions from our processes.
Summit is also eagerly exploring emerging technologies, with the goal to ultimately show a clear path toward a true net zero by 2050 with less reliance on market-based offsets. This exploration includes the evaluation of new technologies such as carbon capture and sequestration and fuel switching.
M MT CO2e Emittes (M MT CO2e)
0.5 - 1.2
With offsets to get to net zero
CEMENT EMISIONS INTENSITY (M MT CO2e / mt produced)
0.25
With offsets to get to net zero
RENEWABLE POWER (by percentage)
Learn more about our comprehensive approach to reducing carbon emissions.
Reducing carbon emissions from cement production
As an industry leader, we have championed efforts to reduce the emissions impact of cement production, including:

Embarking upon an expansion at our Green America Recycling facility to increase our use of alternative fuels in cement production
Launching Portland Limestone Cement (PLC), a lower clinker factor cement in certain markets, with plans to expand further
Learn More >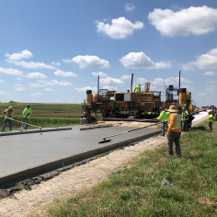 Partnering with universities investigating artificial intelligence solutions for ready-mix concrete optimization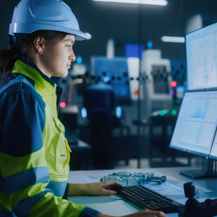 Advancing more sustainable concrete solutions
Concrete is the most-used material on the planet (other than water), representing about 50% of all man-made materials by mass. Because it is so widely used, even small changes to its formulation can have dramatic effects on the construction industry's carbon footprint. That's why we are committed to exploring innovative technologies and products like Portland Limestone Cement and CarbonCure, charting a path to a more sustainable future.
CarbonCure
Summit is actively piloting CarbonCure's sustainable concrete technology. CarbonCure injects a precise amount of carbon dioxide (CO2) into concrete during mixing, where the CO2 undergoes a chemical reaction and converts into a mineral. This CO2 mineralization process improves concrete's performance and compressive strength, enabling the reduction of cementitious content in mix designs and carbon footprint reductions. In 2021, Summit piloted this technology at two of our operations, Con-Agg Companies in Columbia, Missouri, and Allied Concrete in Houston, Texas. Summit completed the pilot phase in 2021 and we plan to add CarbonCure to four more plants in Texas and seven in Utah in 2022.
Portland Limestone Cement
Portland cement manufacturers have developed a modified formulation of their most important product to respond to growing calls for reducing embodied carbon associated with construction. Portland Limestone Cement (PLC) is a blended cement with a higher limestone content, which results in a product that works the same and performs the same, but with a 10% reduction in carbon footprint, on average. Summit is actively championing this product in hopes of promoting more widespread adoption among suppliers and the construction industry at-large.
Every Step Counts
Some of the strategies we're using to reduce carbon emissions:
Plant optimization and efficiency
Evaluating fuel switching options for our plants
Tracking vehicle fuel efficiency and driving reductions
Prioritizing lower carbon solutions as we replace property, plant and equipment
Converting from generator to line power to accelerate path to renewable power
Exploring carbon capture and sequestration opportunities
Industry leaders in building a sustainable future
Cement Industry Roadmap
Percent changes
Source: Portland Cement Association Roadmap to Carbon Neutrality, October 2021
Reduced Mfr. CO2
Reduced transport. CO2
Improvements in mix design
Given the significant role of cement in society and anticipated infrastructure development, it is critical that the industry comes together to find innovative solutions so that we can continue to support our communities through infrastructure while reducing our carbon footprint.
That's why in October 2021, Summit joined an ambitious journey to achieve carbon neutrality across the cement and concrete value chain by signing onto the Portland Cement Association's (PCA) Roadmap to Carbon Neutrality.
The roadmap demonstrates how the U.S. cement and concrete industry can collectively address climate change, decrease greenhouse gasses and eliminate barriers that are restricting environmental progress.
The PCA Roadmap focuses on a comprehensive range of reduction strategies for stakeholders to adopt across all phases of the material's life cycle. These include reducing CO2 from the manufacturing process, decreasing combustion emissions by changing fuel sources and shifting toward increased use of renewable electricity.
By working together with our industry partners, Summit intends to ensure the adoption of these solutions on a broad scale. This will accomplish near-term benefits while constantly striving toward the long-term success of reaching carbon neutrality.
Green America Recycling
Our subsidiary, Green America Recycling, is a key component to sourcing, securing, and implementing our alternative fuel usage. For more than three decades, Green America Recycling (GAR) has been sustainability reusing waste materials for fuel in the cement manufacturing process. GAR is owned by Summit's Continental Cement Company and operates a Part B permitted RCRA Treatment, Storage and Disposal (TSD) facility adjacent to the cement plants in Hannibal, Missouri. GAR's full-service capability includes waste stream pre-qualification, unloading and processing of RCRA hazardous and non-hazardous solids and liquids.
We are expanding our Green America Recycling facility to increase our use of alternative fuels in cement production to further reduce greenhouse gas emissions. Here's how our process works:
To learn more about Green America Recycling Click Here
Download our complete 2022 ESG Report for more information about how we are working diligently to reach our sustainability goals.
Although Summit Materials, Inc. ("Summit," or "Company") believes that the assumptions inherent in these forward-looking statements are reasonable, the reader should not place undue reliance on these statements. Forward looking information is prepared as of January 1, 2022. Please see our "Risk Factors" in Summit's Annual Report on Form 10-K as filed with the Securities and Exchange Commission and our subsequent filings.