Building a Better Future Together
Summit Materials, and our family of companies, is deeply rooted in the communities in which we operate. The relationship between our communities and our business began with building a coalition of well-established, community-focused, family-owned businesses, which continue to be valued and expanded at Summit Materials. We embrace the uniqueness of each of our operating companies, their culture, and their established local partnerships with their respective communities. Our commitment to local communities is demonstrated through our varied efforts across our geographical reach with each operating company supporting their local areas in different ways. From volunteering at food banks, to hosting educational programs for local students, and highway clean up initiatives, our companies are committed to positively impacting their communities. We believe that we are an integral part of the communities in which we operate, and Summit Materials strives to have a positive impact on the places where we live, work, and play. We invite you explore our most recent community engagement efforts, which can be reviewed in the corporate social responsibility report that correlates with your local company.
Our Local Reports
Enriching STEM Education Opportunities in Our Communities
Science, Technology, Engineering, and Math (STEM) subjects affect virtually every component of our daily lives. Across the country, our companies are dedicating efforts to help ensure that today's students and tomorrow's leaders have access to great STEM education so that they can gain the knowledge they need to be successful in their chosen field. Throughout Summit Materials, we have educational programs that work with local students and teachers to inspire hands-on curriculum focused on geology, environmental sciences, chemistry, and mining-engineering. We believe that these efforts help expand students' knowledge of the working world and open doors to our communities, enhancing dialogue and fostering successful partnerships. We invite you to explore and learn more about our STEM education programs, which are included in our annual sustainability report. STEM is a key focus area of our sustainability program. We work hard to improve our outreach each year by sharing best practices throughout Summit Materials and our companies, allocating time and resources to further such efforts, and certifying environmental educational programs through the Wildlife Habitat Council. If you're interested in participating in an educational tour or a STEM program in your area, please reach out to the company location nearest you.
Free Earth Science Curriculum
In partnership with BCSSGA, Summit Materials, and our company, Mainland Construction Materials, created a free earth science lesson plan that meets mandated curriculum standards across North America in the Rocks and Minerals Science Unit.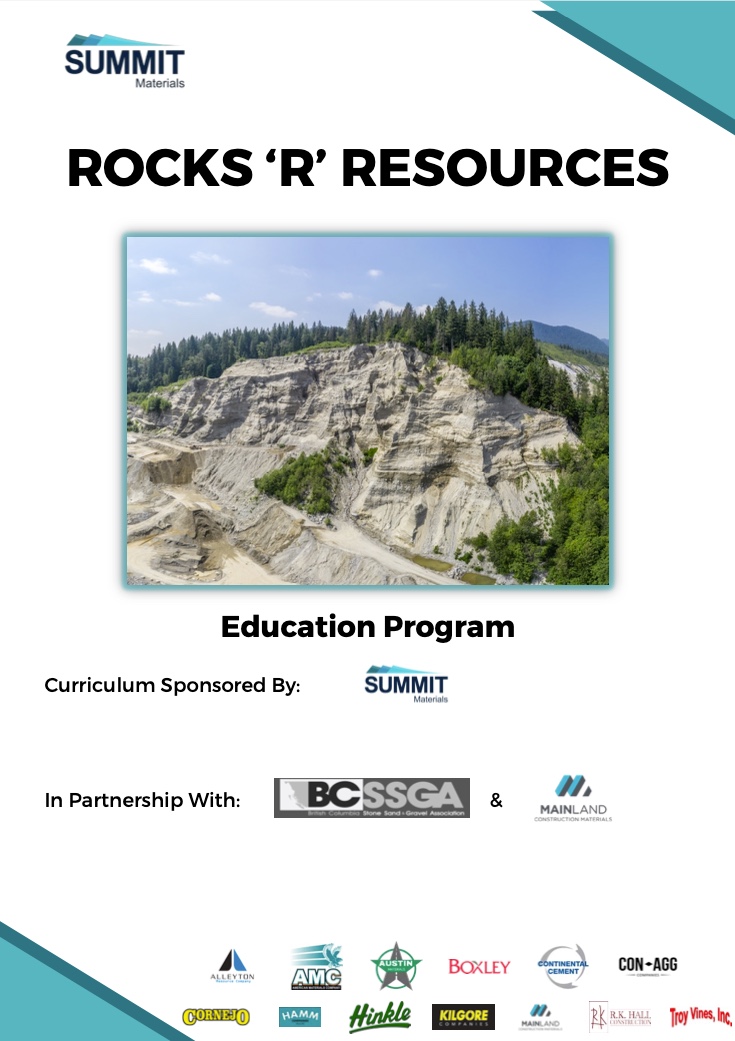 Here is a sample of how this resource meets curriculum standards (please check with your state, as standards may have changed):
Texas – Rocks and the Rock Cycle – 6th Grade/li>
Kansas – Earth's Landscape – 4th Grade
Virginia - Earth Resources – 6th Grade
Utah - Basic Properties of Rocks – 4th Grade
North Carolina – Matter: Properties and Change – 4th Grade
Colorado – Earth Systems Science – 6th Grade
British Columbia – The Rock Cycle and Earth Materials – 5th Grade
This earth science worksheet will teach students about the connection between rocks and critical infrastructure projects. For a PDF copy of the lesson plan, click on the button above, and please feel free to share!